Orlando Attorney
Whitney S. Boan Protecting Your Right
About Whitney S. Boan, P.A.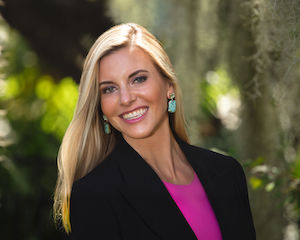 Attorney Whitney S. Boan is a criminal defense attorney who is committed to serving her clients by treating them with dignity and respect, by humanizing them to the court and to opposing counsel, and by expeditiously and aggressively assisting them by protecting their legal, civil, and human rights through what is sometimes a daunting and complex legal system.
Boan was born and raised in the Central Florida area. She is an alumna of Stetson University, where she obtained a Bachelor of Arts Degree in Sociology, with Minors in Russian, and Women's Studies.  Shortly after graduating from Stetson with "high honors," Boan attended the Levin College of Law at the University of Florida where she acquired her Juris Doctorate degree. During her time studying and earning her undergraduate and law degrees, she early became very invested in seeking a career in the field of criminal defense so that she could seek to maintain integrity in the criminal justice system on behalf of those who are accused of crimes, act as a checks and balance on police/state power, and protect the rights of those who are being prosecuted by the executive branches of the United States and Florida governments.
After graduating "with honors" from UF Law in 2004 and being admitted to the Florida Bar that same year, she began her legal career as an Assistant Public Defender with the Office of the Public Defender in Orange County, Florida, where she served for approximately six months before she became an Associate Attorney for the Law Offices of Stuart I. Hyman, P.A.  She spent the next two years practicing heavily in the area of DUI and general criminal litigation. She then became a Senior Attorney for the State of Florida, Department of Children and Families, where she sought to have abused, abandoned, and neglected children either removed from their custodians or to assist families in staying together by providing services to help them.
Upon ending her position with DCF, she served as an Assistant Regional Counsel for the State of Florida, Office of Criminal Conflict and Civil Regional Counsel- 5th District for the next 7 years (in both full-time and part-time capacities). While acting as an Assistant Regional Counsel for the State of Florida, she aggressively handled thousands of criminal cases ranging in charges from murder, firearm offenses, felony "anti-murder" violations of probation, capital sexual battery, drug trafficking, robbery, burglary, conspiracies, in addition to many other criminal charges for her clients.
In early 2010, she formed her own law practice focusing on criminal defense and family matters where she handled hundreds of cases for which she was privately retained. Also in 2010, she was admitted as a member of the Federal District Court for the Middle District of Florida. Upon her admission, she began handling larger-scale drug trafficking cases, as well as charges for conspiracy, racketeering (RICO), fraud, money laundering, and various other white collar or "corporate" crimes for clients with very favorable results.
In early 2014, she joined Snure & Ponall, P.A. in Winter Park, FL where she continued to handle both federal and state complex criminal trial litigation, as well as a plethora of different family law matters.
Then, in 2015, she formed Whitney S. Boan, P.A. where she continues to handle federal and state criminal cases as well as select family matters for her clients. At Whitney S. Boan, P.A., she continues to represent, individuals who were charged by the Department of Justice- United States Attorney's Office in Federal Court regarding investigations by the DEA, Homeland Security, the United States Postal Service Agents, the FBI, and the FDA involving allegations of white collar/organized crime, international drug trafficking, and domestic drug trafficking. She also continues her tradition of handling complex criminal litigation at the State-level, representing clients in DUI charges, domestic violence charges, and any and all other County and State criminal cases.
With 17 years of trial litigation experience ranging vastly in the types of criminal offenses charged and quantifying in thousands for clients served and cases handled, Boan has attained a breadth of experience and knowledge regarding aggressive and effective litigation. Throughout her career, she has earned the respect of her clients as well as the respect of the other legal professionals with whom she interacts on a daily basis to protect the rights of her clients.
Areas of Practice
Federal and State Criminal Trial Litigation
Appellate Law
Bar Admissions
Florida, 2004
U.S. Court Middle District of Florida, 2010
U.S. Court of Appeals 11th Circuit, 2019
Education
University of Florida Levin College of Law, Gainesville, Florida

J.D. – May, 2004
cum laude

Stetson University, Deland, Florida

magna cum laude – 2000
Honors: Phi Beta Kappa
Major: Sociology
Minor: Russian
Minor: Women and Gender Studies
Professional Associations and Memberships
Central Florida Association of Criminal Defense Lawyers
Florida Association of Criminal Defense Lawyers
Orange County Bar Association
Central Florida Association of Women Lawyers
Florida Association of Women Lawyers
Past Employment Positions
Law Clerk, Robert Griscti, P.A., Gainesville, FL
Withlacoochee Area Legal Services, Ocala, FL
Assistant Public Defender in Orlando, Florida, Assistant Public Defender
Stuart I. Hyman, P.A. in Orlando, Florida, Associate Attorney
State of Florida, Department of Children and Families in Kissimmee, Florida, Senior Attorney
State of Florida, Office of Civil and Criminal Regional Conflict Counsel for the 5th District Assistant Regional Counsel
The Law Offices of Whitney S. Boan, P.A. Owner
Snure & Ponall, P.A. – Criminal Defense Attorney
ARRESTED? CHARGED WITH A CRIME? NEED HELP?
Start with our FREE CASE EVALUATION: